by: Fr. Scott Karnik
​
Fourth Sunday of Lent Homily: March 11, 2018
"Early and often did the Lord, the God of their fathers, send his messengers to them, for He had compassion on His people and His dwelling place." This verse from Second Chronicles describes God's love for Judah. God warned the people and the priests of Judah "early and often" of their unfaithfulness to Him and the abominations they practiced in His Temple. God lovingly called them back, urged them to stop, and desired them to repent. God seeks to reconcile with them and to put them on the right way. That is God's nature, to have compassion on his people.
That Old Testament passage mirrors the verse in John's Gospel today: "For God so loved the world that He gave His Only Son, so that everyone who believes in Him might not perish but might have eternal life." That passage describes God's nature today, towards us. God loves us. We need redemption. Redemption comes exclusively from God's Son, Jesus Christ. So therefore, we need Jesus Christ. Why? We need Jesus because Jesus's Incarnation is united to His Redemption of us. Jesus will redeem us by offering up His Body as a sacrifice. His sacrifice will atone for our sinfulness. Jesus will lift up His Body as a sacrifice on the cross. "Lifted up" means crucifixion.
We need Jesus because Jesus's direct mission is salvation. The motivation to save us from sin is God's and Jesus's love for us. That is why God delivered His Only Son to death. He did it with a view to the salvation of every believer from sin and to bring everyone to an eternal life of happiness with Him in heaven.
Jesus asks us to believe in Him. Mankind makes its own judgement by their attitude toward Him. He who believes, repents, is changed for the better, and incurs no damnation. But he who refuses to believe is already damned because he chooses to make himself an unbeliever in the name, mission, and divinity of Jesus Christ.
We need Jesus because God has made us, and we have made ourselves sinners. This Lent we are urged to destroy what we have made, sin, through repentance and belief in Jesus. By doing that, God can save what He has made: us. Repent from sin and love God's work in you. How can we do that? By going to confession. The beginning of good works is the confessing of bad works. Salvation is belief in Jesus accompanied by deeds done in God. May we cooperate with the truth and come to the light. That way our works can be seen as done in God. We have been made in Jesus Christ for good works. Salvation is from Jesus and good works are an integral part of the Christian life.
Our disposition must be completely opposite from the people and priests of Judah. Our disposition must be completely opposite from one who does wicked things and hates the light, in order to preserve his sinfulness.
So what must we know? That Jesus Christ is God's Son and is going to be lifted up on the Cross to atone for our sins and save us. What must we do? Have a right disposition towards God. Good will and a right heart will help us to repent from our sins and welcome Jesus Christ in us. Be open to His Grace and act on His Grace through faith. Continue going to confession, continue prayer, fasting, and almsgiving to strengthen your right disposition towards Jesus. Why should we care? Because the people of Judah in the Old Testament rejected God and incurred His punishment. That is completely opposite what God wanted to do for them. We should care because God cares, that much.



by: Fr. Scott Karnik

Third Sunday of Lent Homily: March 4, 2018:
Jesus Christ gives us a stunning revelation in today's gospel about the Temple. Jesus loves the Temple. That's why He kicks out the merchants and money-changers. The stunning revelation for you and me is what Jesus says about the Temple. Jesus says: destroy it and in three days He will raise it up. Jesus is referring to His Own Body as the new Temple. This stunning revelation makes perfect sense if you remember last Sunday's Gospel. Jesus is transfigured as He prays on the mountain. He is glorified. He is changed. In today's gospel, Jesus purifies the Temple. 40 years later, Roman legions will destroy it. It remains destroyed today. So therefore, the Temple, as a center of worship and sacrifice is destroyed. The Temple, as a site of God's abiding presence, is destroyed. The Temple, as a visible sign of God's faithfulness, is destroyed. The Temple, as a visible expression of all three of these major points, is replaced by the Risen Body of Jesus Christ. Today's gospel reveals to us that Jesus's body will be transfigured into the new Temple.
This New Temple of Jesus Christ is the center of our worship. It is Church. It is a new worship society that replaces worship in the Temple. Our love, our salvation, our values, our very existence, spiritual and physical, are all grounded in a Person, Jesus Christ, our Savior and Lord.
Jesus Christ will also be transfigured into His Church. This Church, the only one He established, is the Mystical Body of Christ. The Church is where Jesus Christ dwells in the midst of His People. Jesus's Body in the Church centralizes our worship of Him. We offer ourselves to Jesus in this Church. We worship Jesus Christ here in this Church. We become part of His Body in this Church. Coming to this Church to offer ourselves, our love, our fidelity, and our worship to Jesus is very inclusive. We are drawn to this by Jesus Himself. We are drawn to Jesus Christ the Person. We are drawn to Him because of our love for Him. It is Jesus Christ Himself who is the center of our worship. Those who refuse to come here exclude themselves. They, themselves, do something that is very exclusionary. They reject coming here to worship Jesus by their own choice. They say they don't get anything out of it. They say that they can worship Jesus anywhere. We come here to receive Jesus's forgiveness of our sins and Jesus's salvation. We come here to safeguard the purity of our faith in Jesus. The Church can never live together with idolatry of any kind.
St. John also writes in his Gospel that, "The Word became flesh and dwelt among us." (John 1:14). So Jesus will also transfigure Himself into Eucharist. It is more accurate to say that Jesus transfigures the Bread and the Wine into His Own Body and Blood. Again, in this Church, Jesus Christ is the center of our worship. Jesus Christ is present in this Church. Jesus's Real Presence is in the Eucharist. He is present in the in-dwelling Spirit of this Church. The Church is the place of God's presence. Jesus Christ is the cornerstone and unity of this Church.
Jesus Christ is greater than the Temple. Jesus Christ supersedes the Temple. So, what should we know? That Jesus Christ is the absolute center of worship here in this Church. We come here to worship Jesus and to be transfigured into likenesses of Him, to offer ourselves to Him, and to be saved by Him. What should we do? Continue our Lenten observances because we know who this Jesus is. Jesus is God's Son and the New Temple. Continuing our Lenten observances of prayer, fasting, and almsgiving brings us to Jesus. Continue to pray, go to Confession, attend Mass, receive Jesus in the Eucharist, become likenesses of Jesus. Why should we care? Because considering all this means that Jesus Christ, in this Church, is everything. That is exactly who Jesus is and who Jesus wants to be for you and for me.


Powered by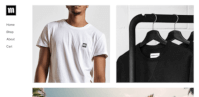 Create your own unique website with customizable templates.