By: Fr. James Gross

​​

In my last assignment before I came here, in the town of Velva, there were three churches in town, and one annual event we always collaborated on was a Baccalaureate prayer service for the high school graduates. The main road leading into town from Highway 52 contains an underpass going below a busy set of train tracks. One year workers were repairing that street, which required a temporary reduction to a single lane, traffic lights on each end, and taking turns. As we got together to prepare the service, we had today's Gospel in mind, and Pastor Johnson came up with a neat idea. He recorded the drive through the underpass, waiting patiently for the green light. Then he typed in the Gospel text over the footage (strive to enter through the narrow gate) and showed the clip at the prayer service. The seniors came to appreciate Jesus' words in a whole new way.

"Lord, will only a few people be saved?" This question comes from someone who, in my opinion, has paid close attention to what Jesus has had to say and is a little confused. On one hand, Jesus frequently falls back to his Father's mercy, through parables like the Prodigal Son and the Good Samaritan. As kind and merciful as God describes Himself to be in the Old Testament, Jesus asserts that his Father is all of that and then some. But God's mercy never exists apart from justice. Human beings enjoy the tremendous gift of free will, but by the same token have to live with the consequences of their actions.

There seem to be two incompatible images at work of heaven. We have the model of mercy, like a large State University with tens of thousands of students enrolled. And we have the model of justice, like an Ivy League school that only accepts the very best and brightest. This question is not mere speculation. Is the number to be saved very many, very few, or somewhere in between?

There is a heresy called universalism which posits that every human being will eventually enter eternal glory, and that any punishment that exists in the afterlife must necessarily come to an end. The motivation behind this is to put a feather in God's cap, so to speak, by envisioning a great reconciliation, even for the most obstinate sinners.

But we do not find evidence in Scripture to support such a claim. The Church does not presume to name specific persons who are in hell (hoping against hope, we might say, for conversions prior to one's death), but she takes seriously the numerous references of our Lord to the eternity of hell. God doesn't so much create hell out of vengeance as He allows it to exist, thereby ratifying the choice—horrifying as it is—that one would rather live only for himself and be separated from the love of God forever.

Every person who is saved is saved through, and not despite, the Paschal Mystery of Jesus—through his dying and rising to new life. The Vatican II document Lumen Gentium reminds us that the redemption Christ won for humanity can even apply to those who do not know who Jesus is. I want to share this quote with you and make sure I get it right: "Those who, through no fault of their own, do not know the Gospel of Christ or his Church, but who nevertheless seek God with a sincere heart and, moved by grace, try in their actions to do his will as they know it through the dictates of their conscience: those too may achieve eternal salvation. Nor shall divine providence deny the assistance necessary for salvation to those who, without any fault of theirs, have not arrived at an explicit knowledge of God, and who, not without grace, strive to lead a good life. Whatever good or truth is found among them is considered by the Church to be a preparation for the Gospel." This is not to say that missionary work is unnecessary; the task is still urgent to make Christ known and share with people the gifts that he gives.

Maybe it appears that Jesus avoids the question brought to him in today's Gospel, but really he probes behind the question. Everyone wants to personalize the issue and wonders, "So what is required of me?" Jesus' response keeps both elements of mercy and justice in play. The "mercy" part is that God is the one who does the saving, and as we heard, people of every nation are invited. The "justice" part is that living as a true disciple of Christ involves discipline.

How is it that a domain as spacious as heaven should have such a narrow hallway leading into it? This is mysterious to us. One explanation I found helpful is to think of an ancient, walled city under a surprise attack from a neighboring army. As they march toward the city, the folks out in the countryside rush to get in where they'll be safe. But quickly a crowd gathers at the main gate, forming a traffic jam. The shrewd people would anticipate this and hurry around to a narrow, secondary entrance. The gate may be rusty and stiff, but they struggle with all their might and give it a good shove, finally pushing it open and running inside. This is the sense in which Jesus says "strive to enter." The Greek phrase here is commonly translated in other contexts as "use up all your efforts." That being said, it's not as though we earn the reward as much as we cooperate with God.

We see the connection between discipline and achievement in all corners of life experience. Athletes swear off fatty foods and subject themselves to arduous training. A classical musician spends many weary, solitary hours in practice. A saint must pray and pray, and then deny himself so that he lives as he prays.

But what are we to make of Jesus' description of the master of the house who rejects people that come to his door, insisting that he does not know where they are from? Would the Lord really not recognize those who know of his power? Would he really turn them away? Now is a good time to recall something that Jesus says in the Book of Revelation: "Behold, I stand at the door and knock. If anyone hears my voice and opens the door, then I will enter his house and dine with him, and he with me." In a famous artistic depiction of this scene, the door on which our Lord knocks has no outside knob: he refuses to barge in but will only enter when we permit him to do so.

How many times have we ignored Christ as he knocked on our door? Have we ever slammed the door in his face by what we have done and what we've failed to do? There are many who today pound on Christ's door in a moment of panic. What were they doing yesterday? And if they find the help they need, will they behave any differently tomorrow?

Jesus concludes by prophesying that people from all directions will find a home with him in heaven, whether they have the words "Descendant of Jacob" on their name badges or not. On the day Jesus was crucified, we are told that the veil in the Temple concealing the Ark of the Covenant tore in two from top to bottom. This represents the end of the distinction between the Jews and the Gentiles.

In our first reading, Isaiah presents us with several names of people and places who will enter God's kingdom. Many of them are from the time frame of Noah, and the fact that they preceded the era of Abraham, Isaac, and Jacob represents their universality. Many religions have the habit of portraying the majority of the world's inhabitants as on the outside looking in, but with the Holy Spirit there is no longer an "outside" as such.
​

The name "Catholic" caught on quickly for the Church of Christ because the word itself means "universal." No other event has driven that point home in my life like the three World Youth Days I have attended. I heard a great many languages and saw a great many flags, but the gift of faith drew us together as members of one body. Our prayer and celebration were a foretaste of what we hope to experience for all eternity.
Powered by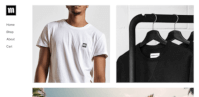 Create your own unique website with customizable templates.