By: Fr. James Gross

​Growing up in our household, each of us always sat at the same exact place at the dining room table. I don't know if this was ever a spoken rule, but that's the way it was. I carry that memory with me when I'm invited to someone's home for a meal. I hang back at first, thinking that the other people will go to "their places" out of habit.

If I have the choice, I sit at the corner opposite the kitchen; I'm not expecting to be the one who runs back and forth to get things, and I want to be out of that person's way. If someone has a place of honor at a table that they ask me to occupy, like the head of the table, I tell them that the honor itself has been bestowed by allowing me into their home, their inner sanctum. Where I'm seated matters little to me.

Besides, as one of the youngest grandchildren on both sides of my family, I spent quite a bit of time at the card table during the holidays. The location of that table was a sort of limbo. We were too far away to be within earshot of any juicy tidbits of gossip, but if we started horsing around, we were close enough for an adult to come over and lay down the law.

In addition to family settings, there are public events that also come to my mind. When I'm at a wedding reception, for example, there's no need for me to join the bride and groom at the head table, as though I need to be seen. It turns out that, at the first wedding I officiated at as a priest, I was seated at a reserved side table with the couple's grandparents. I've since realized that this was intentional; many families want to put me at a spot with as unscandalous and G-rated a conversation as possible.

Jesus uses a humorous story to get his point across in today's gospel about the virtue of humility. Maybe it caused some tension at that banquet, but we can look at the silliness of the people's behavior and easily relate to the scene. The ambitious folks might be trying to inflate their reputation, or they might wish to ask someone for a favor. All the more mortified would they be if the host made a scene and ushered them to a more obscure place, with all the other guests gawking at them.

The disposition expressed by the author in today's first reading is a powerful antidote to such displays: "Conduct your affairs with humility and you will be loved more than a giver of gifts. Seek not what is too sublime for you; search not into things beyond your strength."

Seeing as this is an election season, one of the first present-day comparisons that came to my mind was a typical press conference on Capitol Hill. Although one person takes the lead, a bunch of senators or representatives are on the stage behind the podium. You just know that there's some meticulously choreographed procedure for who stands where. "Will my face be on camera? Can I be the second one in from the middle, instead of the third or fourth?" The egos work overtime to angle for the most prominent place: never mind whether these people actually played an important role in passing the legislation. Their constituents watching back home will think they did.

Jesus then shifts to an application of humility, in our mindfulness of those less fortunate and our solidarity with them. It's easy for us to make up a guest list for a party, whether or not they could show up; those names come to mind quickly. How willing are we to serve our neighbors who cannot return the favor? In addition, as the old saying goes, in what ways do we choose to live simply so that our brothers and sisters may simply live?

Next weekend there will be a huge event in Rome—the canonization of several saints, most notably the woman best known as Mother Teresa. It's been nearly twenty years since her passing, but many of us remember her as though she had died only recently. Rather short in stature and speaking broken English, her lover for Christ and authenticity as his Bride made up for what she may have lacked in external traits. Baptized Agnes Bojaxhiu in her native Albania, as a teenager this girl joined a convent headquartered in Ireland that served in missionary lands. It was in this setting that she went to Calcutta, India, one of the most populated and poorest cities in the world, and eventually formed her own religious order.

Desiring to expand her charism beyond teaching school children, she and her fellow sisters donned habits resembling the local garb of Indian women and went out into the streets to care for the poorest of the poor. Those who had no one to feed or care for them found compassion from Mother Teresa and hope that God was preparing a place of eternal consolation for them, as Lazarus had received from the bosom of Abraham in the Gospel parable.

Many times Mother Teresa's work involved picking up and carrying people to their house so that they wouldn't have to die out in the open. As frail as she appeared, one often wondered where she found the stamina to do this work day in and day out. We came to see that her regiment of fervent prayer was an added source of strength. Even though there were moments of spiritual dryness and shadows, she persevered and found a vibrant, remarkable communion with Christ that people couldn't help but notice.
​
When not in India, Mother traveled the world, meeting with everyone from the highest dignitaries to the most modest, pious souls seeking her prayers. On some of the biggest stages, whether accepting the Nobel Peace Prize or speaking at a Prayer Breakfast in Washington, DC, her message was the same: the life of every person is precious, no matter what. Her defense of the Gospel of Life was constant, regardless of the criticism that came her way. As Our Lord once said from the cross—I thirst—to this day he thirsts in the poorest of the poor who lack the most basic necessities, from food and water to tender words and gestures. When it comes to welcoming the outcast as one's own, Mother Teresa was a woman who both talked the talk and walked the walk. The disinterested hospitality she offered models very closely for us the goals to which Jesus calls each of us in today's Gospel. It's a privilege to ask (soon to be officially) St. Teresa of Calcutta to pray for us.
Powered by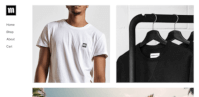 Create your own unique website with customizable templates.